What Is eRank, and Should I Use eRank To Get My Etsy Shop Ranking Higher?
The idea for every seller is to increase their visitors and sell more products.
eRank can help you do that.
If you're unfamiliar with Etsy, it's an online marketplace where people can buy and sell handmade or vintage items.

eRank is a website that helps people with their Etsy stores. It provides features that every e-commerce platform has, such as product listings, payment processing, and order management.
eRank also has unique features, such as seller rankings and buyer feedback. eRank competes with the market giants by providing a better user experience and more features.
Etsy is quite a popular way for artisans, craftspeople, and entrepreneurs to sell the items they make. However, since it is so popular, there is much more competition. eRank helps improve the ranking of its stores in the Etsy marketplace so it can sell more inventory and make more money.
This article will dive into how eRank does that, what it is, its features, its prices, and if you should make a purchase.
What Is eRank?
eRank is an online tool that helps Etsy sellers improve their SEO (search engine optimization) efforts. It does this by evaluating each and every one of a seller's listings and identifying where improvements can be made.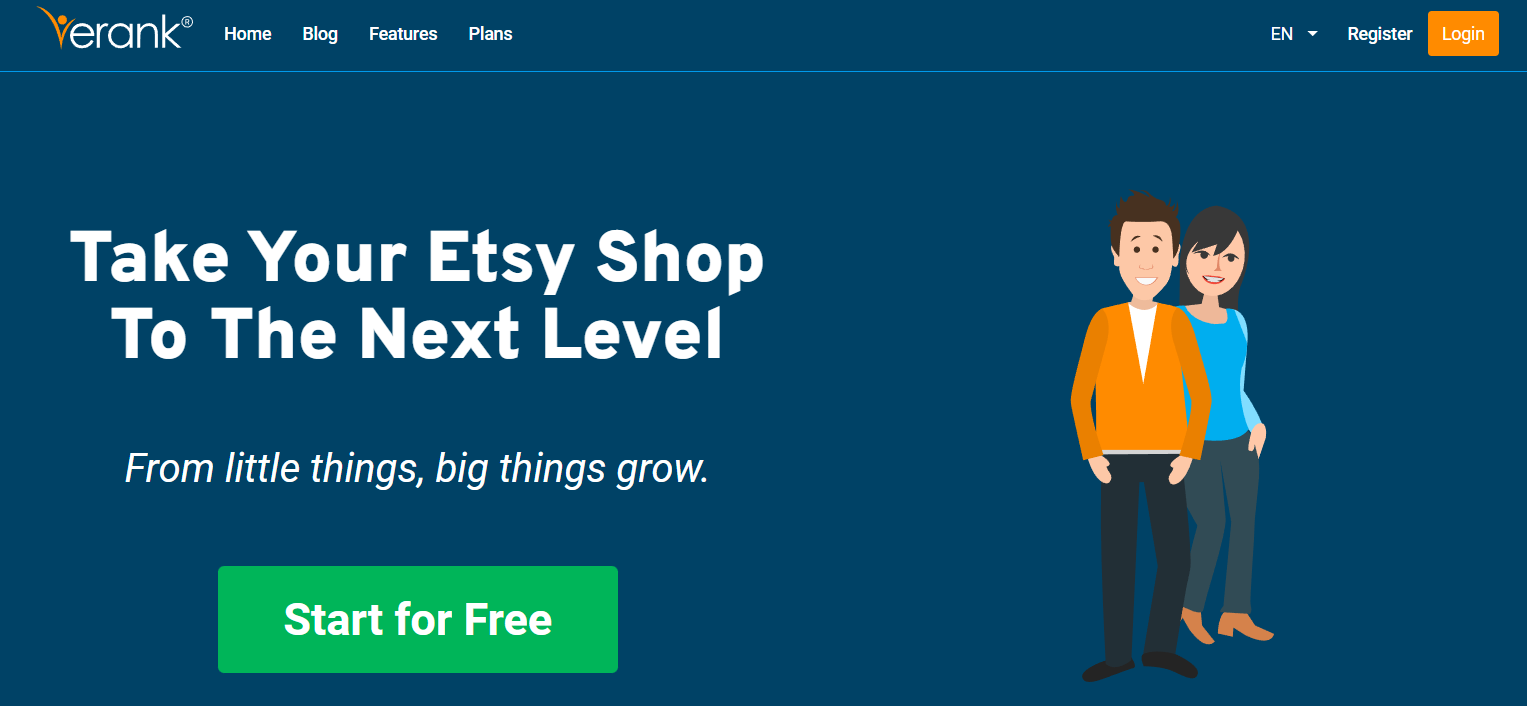 eRank can also show sellers where they are already doing well so they can continue these practices with future listings. Additionally, eRank can help sellers develop new product ideas based on Etsy's current popularity.
What Is Etsy?
Etsy is fantastic for artists, crafters, and collectors to find unique items and build their businesses.
Etsy is similar to Shopify in that it is an e-commerce platform, but Etsy specializes in handmade and vintage items. Etsy also offers a personalized storefront to sellers, so they can create their own store and showcase their products.
Etsy provides payment processing services and a customer service help desk. The platform even allows customers to leave reviews of the products they purchase.
Etsy is a cool little site where you can buy and sell homemade items. While anyone can go to Etsy.com and make a purchase, we're here to talk about how store owners can increase their online visibility to sell more products.
Top Features of eRank
The top three features of eRank are its ability to
Track competitors
Discover keywords
Track trends
Keeping an eye on your competition and seeing their target keywords is a huge advantage when optimizing your Etsy shop.
Additionally, staying up-to-date on the latest trends can help you identify products that are in demand and could be profitable for your business.
How Much To Use eRank Cost?
eRank has four different price plans to suit the needs of anyone's price point.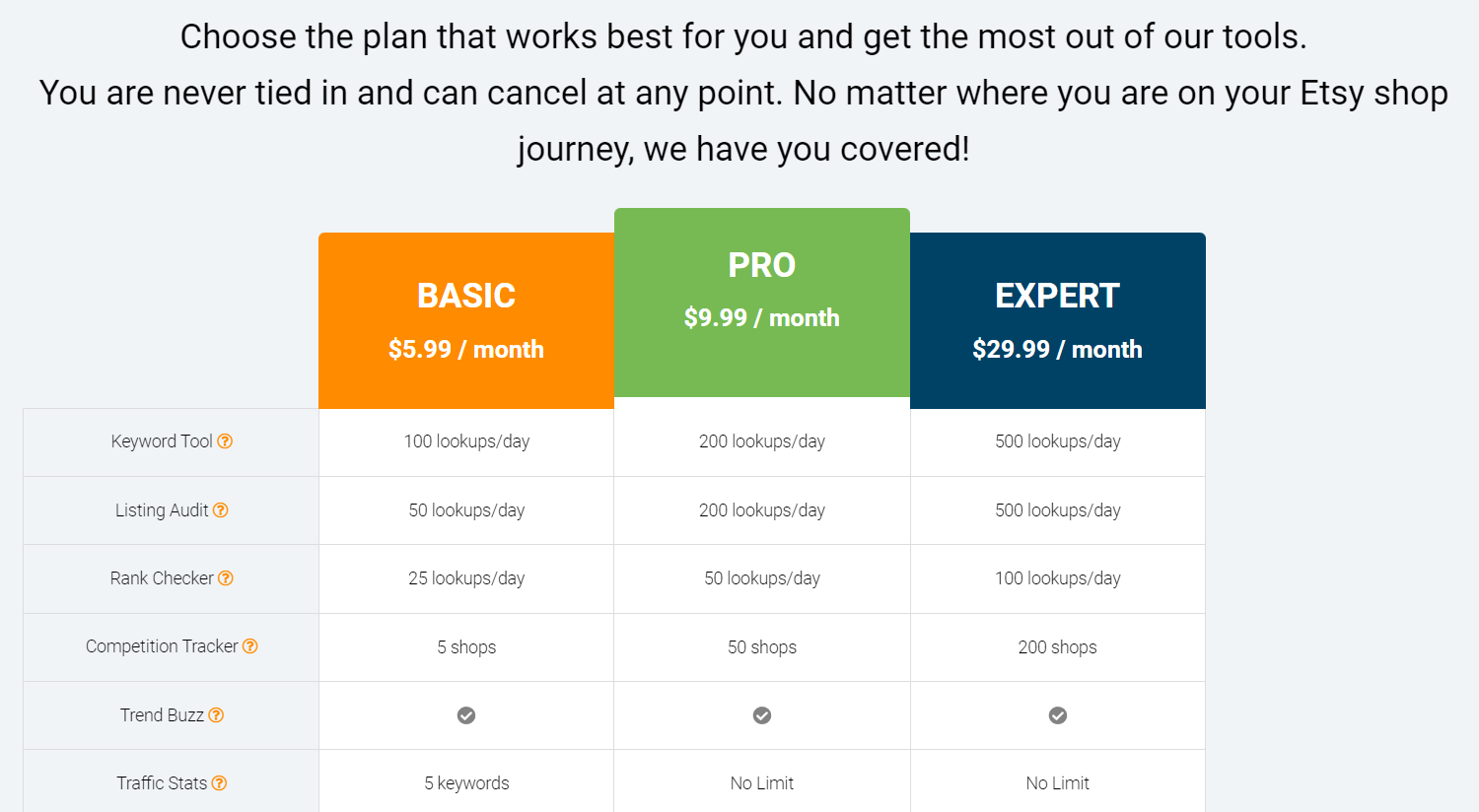 Free – $0.00month – Best for beginners
Basic – $5.99month – Best for the active Etsy seller
Pro – $9.99month – Best for the advanced Etsy seller
Expert – $29.99month – Best for professional researchers and analysts
You will be billed monthly through your chosen payment method securely through Stripe payment processing.
The plans allow people at different stages of their Etsy stores to get the most cost-effective plan for their needs.
The Basic plan includes access to the same tools as the PRO and Expert plans but has a lower quota. The PRO plan includes access to all tools with a higher quota than the Basic plan. The Expert plan includes access to all of the tools, with the highest quota.
Does eRank For Etsy Have a Free Version?
Yes.
You can sign up for a free membership with no limited timeline – it's free for as long as you want to be a member.
All of eRank's Features
Here is a list of all the features offered by eRank.
Keyword Research Tool – Provides tag ideas. The Free plan is limited to 50 lookups per day.
Listing Audit – Improves your listings. The Free plan is limited to 25 lookups per day.
Rank Checker – See how well your products rank for specific keywords. The Free plan offers ten lookups per day.
Refresher – Get your latest Etsy shop and listing data every time you click that Refresh Data button.
Missing Attributes – This tool will report which listings have no attributes selected; Etsy tells us that attributes help match your item with shopper searches.
Competition Tracker – See other shops' daily sales. This is not available on the free plan but is worth upgrading if you sell only in one niche (versus many niches).
Trend Buzz – See trending products by month on many platforms. Not available on the free plan. You need this feature if you're selling seasonal products in your shop.
Traffic Stats – The keywords customers use to find your store.
Monthly Trends – View Etsy's most searched keywords from over a dozen categories, with 15 months of historical data for keywords in each niche.
Keyword Lists – Allows you to save and group keywords alongside their latest search data. Create up to 50 lists with up to 50 keywords each. Color-code, sort, add and save notes.
Delivery Status – This lets you track shipping to customers. Not available on the free plan.
Top Sellers – You can see the top 100 Etsy shops across product categories. Not available on the free plan. Best for more advanced sellers.
Listing Changes – This tool lets you see changes to your listings. You can track one listing on the free plan. Helpful for sellers with more than one listing.
Listings Analyzed – This is the maximum number of listings eRank will process. The free plan gives you 100 listings which are usually enough for most people.
Keyword Explorer – An excellent tool that lets you find high-volume keywords to upgrade tags and inspire new products. The free plan gives you five lookups per day which are enough for brand-new sellers but might get frustrating for experienced sellers. If you're serious about Etsy, you should upgrade your plan to use this tool alone.
Bulk Keyword Tool – This lets you research 20 keywords at once. This is not available on the free plan.
Traffic Stats – Summary Traffic Stats shows how shoppers find your shop and your listings through Etsy searches.
Monitor Tool – This tool lets you monitor your listing performance over time. You can track one listing on the free plan.
How To Get Started With eRank
First, you want to get an account.
Register for a free account on eRank.
Integrate the tool with your Etsy store using the easy-to-use dashboard.
After linking your stores, you can use the data to help you improve your own performance on Etsy and get into the top 100 listings.
How To Link Your Stores
Log into your eRank account and your Etsy shop.
Click on the Settings option in the upper right corner of your eRank account.
Go to the Your Shops option.
Press the Connect Another Shop button, leading you to your Etsy shop.
Approve this notification by clicking Allow Access.
Once you've registered for an account and integrated the tool with your Etsy store, it's time to start using it!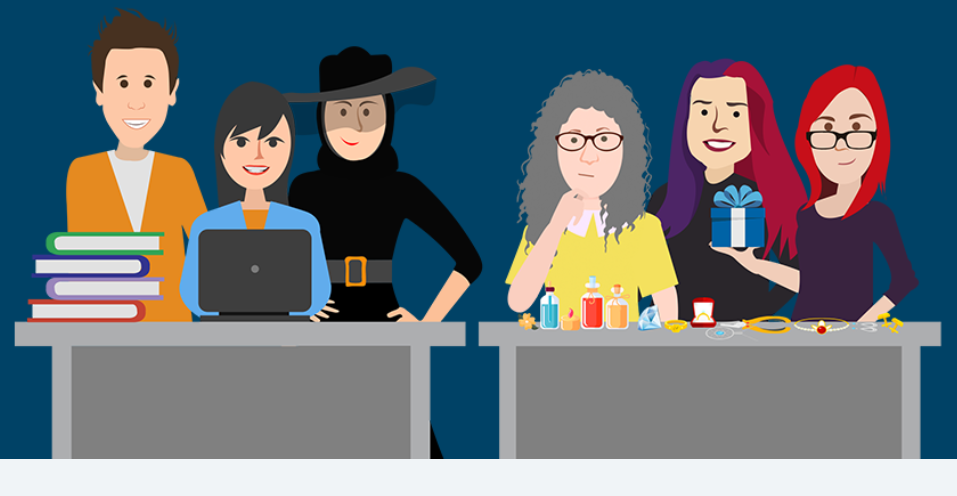 Do An In-depth Review of Your Page and Products
To improve the ranking of your page and products on Etsy, you can use the eRank tool. eRank is a tool that helps optimize your listings for Etsy search results using the power of SEO.
It focuses on several elements to improve your listings in terms of SEO, including headings. Headings are essential because the Etsy search algorithm considers them when determining your product's relevance to a given search term. The closer your title and keywords match, the better your SEO.
Title tags on your products are also important because they help Etsy understand what your product is about and help people find your products much more quickly. Use popular tags that will describe your product as much as possible.
Use the Keyword Tool
When it comes to online marketing, using the right keywords is essential. If you want your website and product descriptions to rank high in search engine results pages (SERPs), you need to use the right keywords. And eRank's keyword tool can help.
This tool provides data on the search volume of different keywords. That information can help you determine which keywords are seeing the most demand in the market. So, you can use those keywords in your website and product descriptions to help your business rank higher in SERPs.
The search volume data may also help you identify more competitive keywords. If you know that a particular keyword is seeing a lot of demand but is also highly competitive, you may want to target a different keyword instead. That way, you'll have a better chance of ranking high in SERPs for that keyword.
Overall, using eRank's keyword tool can be a great way to determine which keywords you should target in your online marketing efforts and grow your Etsy store.
Use the Rank Checker Tool
When you use eRank's Rank Checker tool, you can see where to improve to be more competitive for a good keyword. You can also see how much your competitors pay to place an ad for that keyword. This information can help you brainstorm keyword ideas, optimize your listings, and target the right keywords for your business.
Use the Price Calculator Tool
The eRank ROI Calculator tool is a great way to price your products correctly. This tool considers the cost of your ad campaigns and calculates the cost per product. This information can help you determine how much you should charge for your products to make a profit.
The Profit Calculator tool can also help you with this. This tool allows you to enter your labour, material, ad, and logistics costs per product. It then calculates the fees you must pay Etsy for selling on its platform. Armed with this information, you can price your products to ensure you profit from each sale.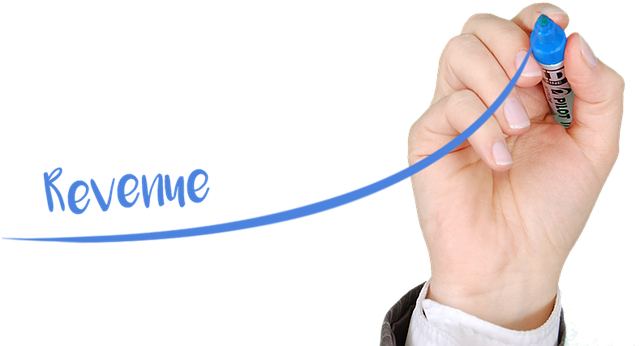 Is eRank Worth It?
eRank is definitely worth it if you want to improve your Etsy SEO. It has a range of features that can help with market research and listing optimizations, and it's one of the most affordable SEO tools in the market.
If you are a serious seller on Etsy, you should get eRank, especially with the budget-friendly price point. The tool can help you with keywords, trends, and competitor research to optimize your Etsy store, which can help you improve your Etsy shop's visibility and traffic.
If you're just a beginner on Etsy, you may want to see what it's all about before spending any money. You could even use the free program from eRank to get a bit of an edge on your competition. But make no mistake, if you want to start making serious money by selling on Etsy, you will need to pay for tools like eRank to stay ahead of the game.
eRank is a fantastic tool that can help you improve your Etsy ranking. It contains a lot of data to help you optimize your shop for better visibility. The tool also offers SEO tips to help you rank higher on the Etsy platform. We highly recommend using eRank to improve your Etsy store.
Have you used eRank yet? If so, let us know how you liked it in the comments section.